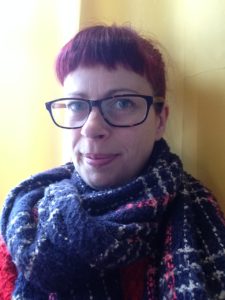 What's your name?
Anna Suschitzky
What do you do?
I'm the Community Engagement Officer
What's the first piece of theatre you remember seeing?
It was with my grandparents in Manchester – i think it was probably a Christmas show. My main memory was actually more about the experience of going to the theatre rather than the show itself – the build-up and excitement as well as the kitkat we ate during the interval.
Who (or what) did you want to be when you were growing up?
I was never one of those children who always knew what they wanted to be – I think at one point I wanted to be an archaeologist – digging for treasure . I also had moments of wanting big hair and loads of bangles like carol decker from T-pau
How long have you been working in theatre, and how did you get started?
I came late to the theatre, I was almost 40 years old. After working for various charities there came a point where I realised I wanted a change. I looked back to where my passions lay and realised that being part of creative projects was something I loved. So I went back to university and did a Masters in Drama. Since then, I've been making my own performance as well as supporting community engagement with other theatre companies.
What have you worked on recently?
I recently made a show called All About My Tits which is an autobiographical performance which raises the question, what and who are breasts for? Engaging with the politics of infant feeding, the performance is an attempt to provide a platform to talk about breastfeeding and encourage the audience to re-examine their own relationship to breasts.
What are you most looking forward to about The Girl with Incredibly Long Hair?
I'm intrigued to find out if Rapunzel does break that world record and I'm really looking forward to seeing the reactions of the families that we are hoping to engage with when they see the show for the first time.
And finally …what would your superpower be?
I'm not sure that it's a superpower exactly but I would just really like to have the energy of a four-year-old.