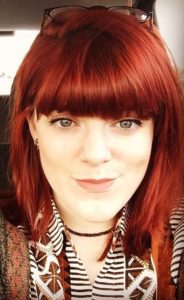 What's your name?
Katie Bingham
 What do you do?
I'm the Stage Manager
What's the first piece of theatre you remember seeing?
Annie at Bristol Hippodrome. I remember being transfixed by the dog throughout the whole thing.
Who (or what) did you want to be when you were growing up?
Choreographer! 5(ish) years.
How long have you been working in theatre, and how did you get started?
I loved theatre & performing arts when growing up and stage management played to my strengths. Turns out I love it!
What have you worked on recently?
A season at Opera Holland Park followed by a UK & NYC tour of Man to Man.
What are you most looking forward to about The Girl with Incredibly Long Hair?
Working with the lovely team again to produce another piece of new writing!
And finally …what would your superpower be?
To be able to transport myself anywhere.