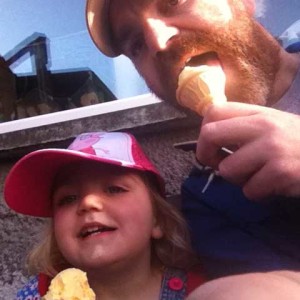 What's your name?
Matt Ball
Who do you play/ What do you do?
I'm the director and writer
What's the first piece of theatre you remember seeing?
Panto at Loughborough town hall.
At the factory where my dad worked they took all the kids to the panto at christmas. What I remember most was that your parents weren't there and they gave us a bag of sweets each – and then threw more at you.
Who (or what) did you want to be when you were growing up?
Mark Hughes (Footballer), Robert Miller (Cyclist), the dark haired on form CHIPS or Adam Ant
How long have you been working in theatre, and how did you get started?
I got my first job in theatre in 1999, working as an Assistant Director on a play at Chats Palace in Hackney. I'd done a degree in Drama at Goldsmiths prior to that, and been applying for everything I could. I then worked for a couple of years as a Stage Manager, before going to Central to do an MA in Directing.
After leaving Central I set up a company, Pleasure Seekers, to make my own work, and our first piece, Ariadne, was programmed in Camden People's Theatre
SPRINT festival. At the same time I was production manager at Mountview (where I'd freelanced at an SM previously), which payed the rent!
In 2006 I was appointed as Artistic Director of Camden People's Theatre, and stayed there till 2011, when I joined National Theatre Wales as Creative Associate. After the end of my time at NTW, I took some time off to be a stay at home dad, before starting to make may own work again …. which is what I'm doing now.
What have you worked on recently?
Woyzeck for Bath Spa University – a play I'd always wanted to work on since it was the first play I saw in a youth theatre production in 1992.
What are you most looking forward to about The Girl with Incredibly Long Hair?
Finishing the script! and seeing our daughters reaction to it
And finally …what would your superpower be?
Thought control