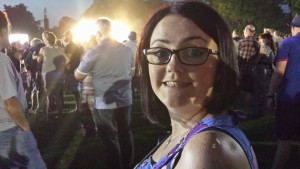 What's your name?
Nia Wyn Skyrme
Who do you play/ What do you do?
I'm the Producer.
What's the first piece of theatre you remember seeing?
Jiw Jiw Jeifin Jenkins- Panto – Theatr Ardudwy I remember all the songs, the dancing. I got to re-live it over and over on a VHS for years too as S4C used to record and televise it!
Who (or what) did you want to be when you were growing up?
Actress or a Postman
How long have you been working in theatre, and how did you get started?
15 years! I graduated in 2003 from Aber Uni and moved straight to Cardiff and set up a theatre company with 2 friends- Cwmni Theatr 3D, I started with acting and ended up on the producing and administrative side. I worked for Night Out for 10 years where I discovered the importance of community and audience engagement with the Arts. I made the jump into the freelance world in May 2016 to become a Producer and Promoter . I'm lucky that my passion has now become my job, and that I get the chance to work with amazing companies and individuals!
What have you worked on recently?
A lot of planning and development for 2018!
Theatr Genedlaethol Cymru- Y Tad, Estron, Nyrsys
Motherlode- Exodus
Little Light- The Flying Bedroom
What are you most looking forward to about The Girl with Incredibly Long Hair?
Working with lovely, talented, passionate people.
Getting new audiences into the theatre and seeing everyone's reaction.
And finally …what would your superpower be?
Teleportation – so I could be near by nearest and dearest in a flash