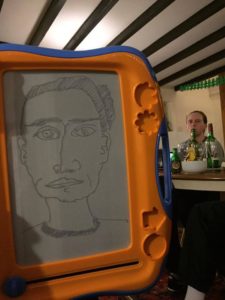 What's your name?
Sam Jones
Who do you play/ What do you do?
I'm the Sound Designer
What's the first piece of theatre you remember seeing?
A Midsummer Night's Dream in Cilgerran Castle
Who (or what) did you want to be when you were growing up?
A deep sea diver, a robot, and apparently according to my parents – a postman.
How long have you been working in theatre, and how did you get started?
About 6 years professionally, I got a job at the Sherman Theatre as a technician then shortly after that I went freelance
What have you worked on recently?
Currently working on The Mother****** with the Hat in Glasgow at the Tron Theatre.
What are you most looking forward to about The Girl with Incredibly Long Hair?
Matts witty remarks!
And finally …what would your superpower be?
To be able to play every instrument under the sun