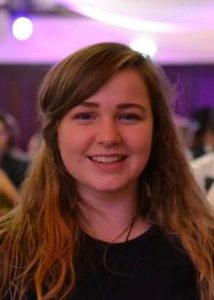 What's your name?
Kirsten Buckmaster
Who do you play/ What do you do?
Technical Stage Manager
What's the first piece of theatre you remember seeing?
The Sound of Music, at a theatre in Melbourne. I was probably around 5 or 6, and the main thing I remember is an overwhelming feeling of joy!
Who (or what) did you want to be when you were growing up?
A writer, and then later a teacher.
How long have you been working in theatre, and how did you get started?
Professionally, almost 4 years. I performed a lot while at school, but knew I didn't want to be an actress– so I went to university to study English and History. While there I started volunteering at a student theatre society, and fell in love with Stage Management! The rest is history.
What have you worked on recently?
Currently I'm Stage Manager on Crime and Punishment at Guildford School of Acting– prior to that I was DSM on Peter Pan at Harlow Playhouse, and Our Town at the Watermill Theatre, Newbury.
What are you most looking forward to about The Girl with Incredibly Long Hair?
Giving our younger audience members that sense of limitless possibility that you get from a good story told in an imaginative way.
And finally …what would your superpower be?
Definitely teleportation!