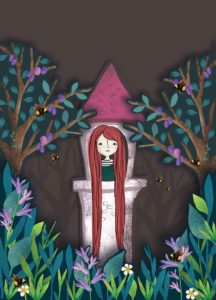 We're excited to announce our next project, The Girl with incredibly long hair, an ambitious immersive work for young audiences. It takes the story of Rapunzel and reimagines it for our times, where we don't expect the girl to need saving by the boy, and in which female characters can shape their own destiny. This project is inspired by our experiences of telling stories to our own children and wanting them to experience high quality theatre, which doesn't perpetuate sexist stereotypes.
This September we'll be beginning R&D on the project and working in partnership with Blackwood Miners Institute and Wales Millennium Centre with support from Arts Council of Wales, National Lottery, Welsh Government & Creu Cymru. Over a three week period we'll be developing the project with three performers, set & sound designers, an illustrator, a songwriter and access consultants. If you want to keep up to date with our progress follow us on Twitter or see our Facebook page for regular updates.
Rydym wrth ein boddau i gyhoeddi ein prosiect nesa', The Girl With Incredibly Long Hair yn waith trochol, uchelgeisiol ar gyfer cynulleidfaoedd ifanc. Mae'n canolbwyntio ar adrodd stori Rapunzel yn ein hoes ni, lle nad ydym yn disgwyl i'r ferch gael ei harbed gan y bachgen, gyda'r cymeriadau benywaidd yn llunio eu tynged eu hunain. Ysbrydolwyd y prosiect hwn gan ein profiadau o adrodd straeon i'n plant ein hunain a'r awch i brofi theatr o safon uchel, sydd ddim yn parhau gyda'r stereoteipiau rhywiaethol.
Mis Medi yma fe fyddwn yn dechrau ar y prosiect Ymchwil a Datblygu, yn gweithio mewn partneriaeth gyda Sefydliad y Coed Duon a Chanolfan Mileniwm Cymru gyda chefnogaeth gan Gyngor Celfyddydau Cymru, Loteri Genedlaethol, Llywodraeth Cymru a Creu Cymru. Byddwn yn datblygu y prosiect dros dair wythnos gyda tri perfformiwr, dylunydd set a sain, darlunydd a ymgynghorwyr hygyrchedd. Dilynwch ni ar Twitter a Facebook i ddilyn cynnydd y prosiect.

Flickr Album Gallery Powered By:
Weblizar
We Made This:  Matt Ball, Jonny Cotsen, Jacqui George, Kelly Jones, Sam Jones, Kayed Mohamed-Mason, Alison Neighbour, Lynwen Haf Roberts, Nia Wyn Skyrme, Seren Vickers