A group of participants from Mess up the Mess, joined us at the beginning of our week in Pontardawe, to see what we'd made, give us feedback, and respond creatively. We then took this onboard and built it into the work we made and shared with them again when they returned later in the week.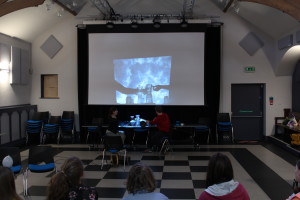 Here's some feedback they gave us after the second sharing:
What did you like about the sharing and the process?
I liked everything. It felt like a session we do at MUTM but slightly different.
I like that they used young people to experiment and then take on their ideas. All of the different styles and ways they told the same story.
I liked it when Morgan was in the corner using spoons and tissues saying they're dangerous, making noises with is phone, and pretending there were leaks.
I liked it when they used our idea of putting the boat up the stairs and it getting smaller and bigger, and talking about the cinema night and leaving the children at home.
I liked that they had their own ideas and then asked us about our ideas. I liked that they mixed our ideas and theirs together and used ours as inspiration.
I liked how they did their performance first and then we created our scenes from that.
I liked the light shining through bottles to look like buildings on the projector screen. Very creative. I thought the process was pretty good.
What didn't you like about the sharing and the process?
There was nothing I particularly disliked.
Some ideas were trying to make the performance about the story. I liked the ideas of the performance being abstract and using the story as a stimulus.
I didn't like the blindfolds because I didn't know what was going on.
It was all a work in progress so I don't think you can criticise it.
I liked it all.
If you were to sell the idea of, 'Light is like…' to a peer, what words or language would you use?
Fun, interesting, amazing. It's about water and not doing anything stupid when your parents are away.
It's about light acting as water and the looking at different styles of theatre to show similarities between light and water.
Funny. It's a good story that I definitely would go and see, about two boys called Joe and Toto who were home alone when their parents went out and burst a light bulb and flooded the whole house whilst their school mates were over.
I would describe the story as … the parents told the little boys that light was like water, and so the boys took it literally, and every time the light went on they would smash it and the light would come out like water. It's really different to what you would expect.
Interesting ideas and concepts. Relaxed environment. Different piece about light and children's imagination.
Any other comments?
I enjoyed it.
I really enjoyed.
I can't wait to see what they do next. Looking forward to it.
I'm looking forward to seeing the finished piece.