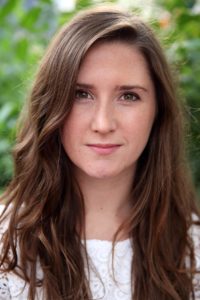 What's your name?
Gemma Prangle
Who do you play/ What do you do?
I'm the Assistant Director
What's the first piece of theatre you remember seeing?
The annual Pantomime at Porthcawl Grand Pavilion as a Brownie. I remember being picked to go up on stage and had to make chicken noises into a microphone. Maybe that's where my love for theatre began!
Who (or what) did you want to be when you were growing up?
I wanted to be a Lollipop Lady.
How long have you been working in theatre, and how did you get started?
I've been working in theatre for about six years. I almost ended up in a completely different world – I originally applied to study Computer Science at University. Eventually my gut feeling took over and I declined my offers and reapplied the following year for a theatre degree. Best decision I ever made! My first experience of a professional production was an ensemble role in Little Dogs with Frantic Assembly and National Theatre Wales.
What have you worked on recently?
I have been working as a performer with Ransack Dance developing their double bill 'Broken Arrows' and 'Momenta'. I've also recently returned from a month in India expanding my yoga practice and seeing work at the International Theatre Festival of Kerala.
What are you most looking forward to about The Girl with Incredibly Long Hair?
I'm beginning to develop my practice as a choreographer/director so I'm looking forward to being able to look at a project creatively from the outside rather than being a performer. I'm also excited to be working on a family theatre piece because for some children this might be a completely new experience and relationship with theatre.
And finally …what would your superpower be?
Supersonic Speed….