What's your name?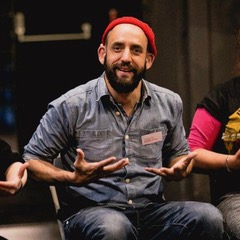 Jonny Cotsen
What do you do?
I'm the Access Consultant
What's the first piece of theatre you remember seeing?
Little Shop Of Horrors at New Theatre. They did not have accessible performance back then and being deaf it was really hard to understand the story but I was blown away with the set design and the crazy stuff that was going on the stage.
Who (or what) did you want to be when you were growing up?
Bruce Grobbelaar (goalkeeper for Liverpool) It was his clowning antics that inspired me.
How long have you been working in theatre, and how did you get started?
I am relatively quite new – about 2 years. I got involved because of the poor access for deaf audiences in Wales and my role is to make those improvements through facilitation and consulting.
What have you worked on recently?
Recently I have been performing (by accident!) My solo show, 'Louder Is Not Always Clearer' which is touring across Wales.
What are you most looking forward to about The Girl with Incredibly Long Hair?
Working with a brilliant team and I am excited to see how this project will turn out.
And finally …what would your superpower be?
To go back in time and prevent bad things happening so the future will be a lot better….