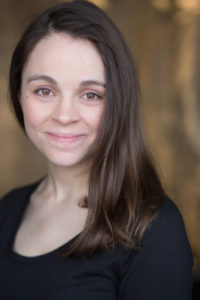 What's your name?
Roanna Lewis
Who do you play?
Rapunzel
What's the first piece of theatre you remember seeing?
The first show I saw was Roald Dahl's The BFG at the Sherman Theatre. I remember being so amazed by it that I got the book out of the library and read it over and over and over again.
How long have you been working in theatre, and how did you get started?
An Astronaut, a Zoo Keeper, a Farmer, a Pilot, an Author and a Jedi.
Who (or what) did you want to be when you were growing up?
I started making up plays in the garden when I was about 6 using Mum's old clothes as costumes and Dad's 'Queen' album for the soundtrack. The rest of the actors were teddy bears and school friends. Apologies to everyone who had to watch these plays that apparently went on for hours!
What have you worked on recently?
I've just worked with an exciting company called Raucous on a show called Ice Road. It was set in the middle of the devastating Siege of Leningrad in 1942.
What are you most looking forward to about The Girl with Incredibly Long Hair?
Getting to share our story with all the lovely people who come to see us.
And finally …what would your superpower be?
Time Travel. Who wouldn't want to go and meet their great, great, great, great, great, great, Grandparents…who probably lived on a farm and had a pet goat called Boswell?